Cougar Bikini Squad Presents
---
The Divorce Weight Loss Academy
Lose the stress weight you gained during your divorce WITHOUT restriction!
Learn how to end emotional eating so you can drop the pounds WITHOUT giving up your favorite food and never having to "diet" again!
Enroll Now
Imagine--
Shedding the dreaded "Heartbreak 15" you put on during your divorce, feeling self-assured in your own body, and bidding farewell to diet culture.
Maybe YOU are Currently Dreaming Of Losing Your "Divorce Weight"
✓You gained weight during or after your divorce and are struggling to lose it without giving up the foods you love or doing endless amounts of cardio
✓You've signed up for challenge after challenge yet never see lasting results because you are unable to end the cycle of yo-yo dieting and you realize you need a long-term solution
✓You see other divorced women thriving and achieving their ideal bodies while you're still battling late-night snacking and want to enjoy your favorite foods without gaining weight
✓You want to enjoy all the fun things in life, like travel, holidays, and celebrations, without feeling restricted or like you're on a constant diet
✓You are ready to shed the label of the "frumpy divorced friend" and feel proud and confident in your own skin
Then you are in the right place because The Divorce Weight Loss Academy will provide you with the exact framework on how to DROP THE UNWANTED DIVORCE POUNDS so you don't have to diet again!
What If You Could:
✓Be bikini ready 24/7 year round by dropping the unwanted pounds you packed on during your divorce
✓Travel the world AND enjoy delicious food while achieving the body you've always dreamed of
✓Workout LESS and look better than even BEFORE your divorce
✓Join in on celebrations WITHOUT feeling awkward about a "special" eating protocol
✓Stop emotional eating once and for all and remove the "guilt" you feel surrounding food
My Name Is Amy
After my 17-year marriage ended, I struggled with emotional eating and gained a lot of weight.
I was 3 weeks out from a bikini competition when I filed for divorce, which sent me into a spiral of stress eating. I consumed entire jars of peanut butter in my car and ate boxes of cookies in private.
I dropped out of the show and my weight soared.
I was devastated and, to make matters worse, I experienced homelessness and had to move in with a relative. Not long after, I was furloughed
from my gym personal training job due to the pandemic.
In 2020, I launched my online fitness business, Cougar Bikini Squad, because I said I didn't want to be the desperate divorced cougar at the bar hitting on younger men for validation. I don't drink or go out, and that was the "advice" most people gave me to help me cope with my marriage ending. I wanted single women to have a healthy alternative.
As my business grew, I noticed
my most successful clients were divorced women like me. They were inspired by my post-divorce glow up. I decided to focus my business exclusively on helping these women achieve their goals. After I dropped my "divorce weight," I competed in 5 bodybuilding shows.
In addition to being a Certified Personal Trainer through NASM, I hold multiple certifications through other fitness organizations. I am also a Certified Life Coach.
I made this program since it was something I truly could have benefitted from when I was going through my separation and divorce.
By the end of this program, you will have:
---
✔️ The knowledge you need to not only "lose" weight post divorce, but keep it off
✔️ The framework to end the cycle of restrictive dieting so you can live life and move forward without being distracted by food
✔️ The systems necessary so you no longer comfort or self soothe with food in stressful situations
✔️ The understanding of how to work out LESS and achieve amazing results so you don't waste time with pointless fitness routines
✔️ End shame and guilt surrounding food by removing "good" and "bad" labels
Cheryl, Ohio
At her heaviest, she was 250+ pounds. She enjoyed food but felt she had to adopt an "all or nothing" mentality, which led to an endless cycle of failed "diets." She had a big goal--she wanted to run a marathon. After implementing the strategies and methods she learned in my program, she not only LOST more than 50 pounds, she ran a 5k, 10k, half marathon AND a full marathon ALL IN ONE WEEKEND. She now understands how to integrate her favorite food into her everyday life, including when she travels.
Take a Peak Inside Some of the Lessons Included in The Divorce Weight Loss Academy
What is Emotional Eating?
Causes of emotional eating
How to recognize the signs of emotional eating
How "diet culture" influences your post divorce eating habits
Coping with Emotional Eating
Recognizing your "triggers" and how to manage them
How to avoid stress eating
Tactics to help you manage obstacles
How to Manage Your New Identity as a Divorced Woman
What happens when no one is supportive
Why what worked before doesn't work anymore
Why restrictive diets fail
When You Enroll During This Special Limited Time Period, You'll Get:
The Divorce Weight Loss Academy
✓ Self-guided in-depth modules, including lessons on how to lose weight without giving up your favorite food, how to formulate an effective workout plan, and tactics to maintain your NEW lifestyle for the long haul
✓ Video lessons, supportive material like assignments, workbooks, worksheets, and sample workout plan
✓ Access to our community for support and questions
✓ Helpful resources and links
Plus These Bonuses To Set You Up For Success
BONUS 1: VIP Facebook Community
($1,167 Value)
Q&A Support Inside the Facebook Support Group with Women Just Like You!
Bonus Highlights:
We will help you when you get stuck, need accountability, and give you the guidance you need to help you stay on track during your journey!
Q&A to make sure that you get your questions answered and can move forward with total clarity and confidence

A supportive Facebook community where you can connect with fellow students, stay accountable, get more inspiration and real-time feedback
BONUS 2: Bonus Mindset Lesson
($400 Value)
This bonus lesson is designed to help you get in the right frame of mind to tackle your transformation with clarity
Bonus Highlights:
You will learn
How to remain positive
The importance of staying true to your vision post-divorce
Access granted after completion of all modules
Enroll in the Divorce Weight Loss Academy TODAY at this limited time price!
---
Regular Price (

$3,997

)
Check Out These Success Stories!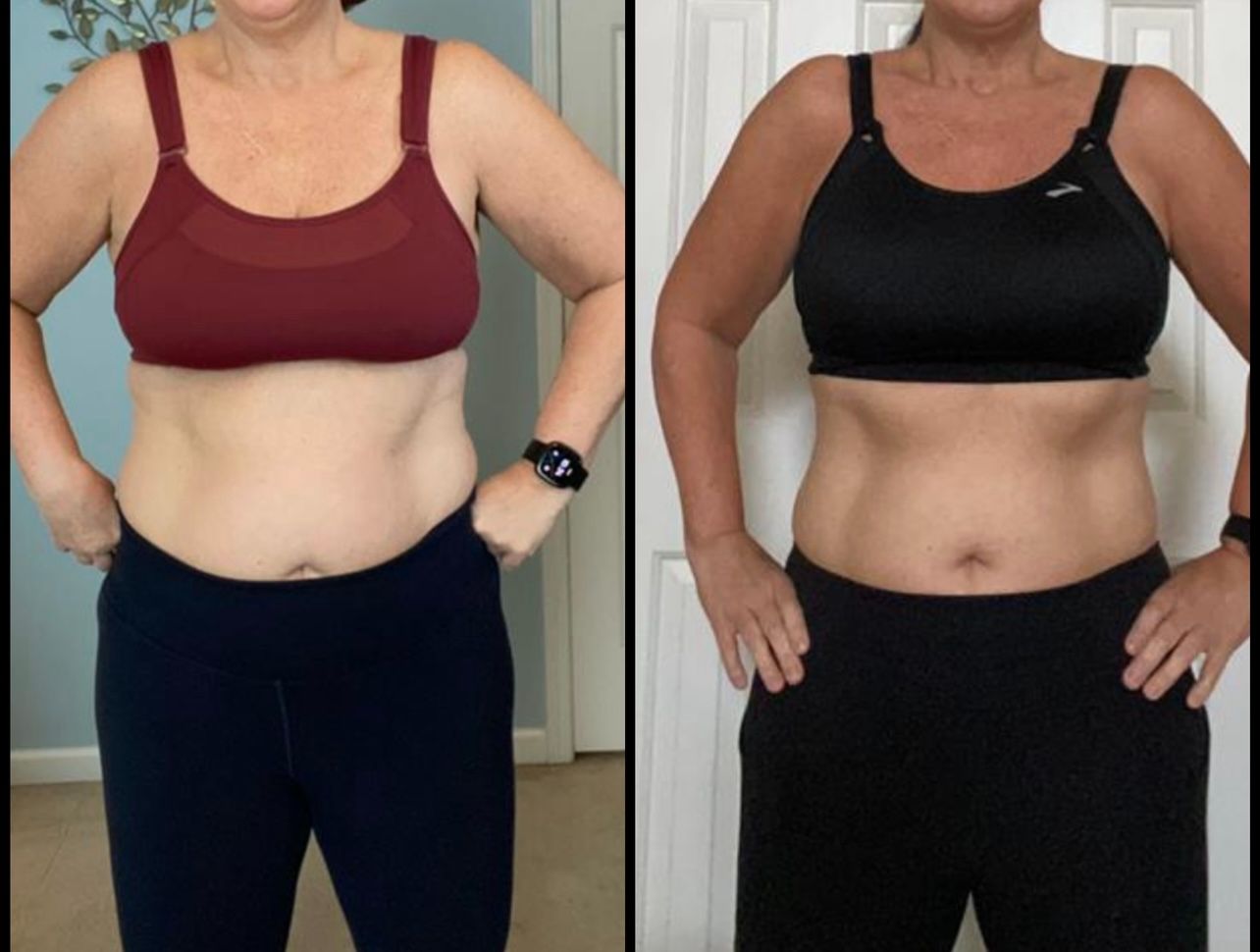 D, SC
Said her outside did not accurately reflect how she felt inside after her separation.  Although she was "working out," she wasn't seeing the results she wanted due to poor dietary decisions.  After going through my program, she lost 13 pounds AND 6% body fat! She accomplished this even with a thyroid condition.  She also is down several sizes and now has the confidence to wear shorts again!
Julie, PA
Once a "fit mom," her separation took a toll on her physical health, especially as her job responsibilities shifted during the pandemic. She found herself navigating a new era in her personal and professional lives, leaving her overwhelmed and eating off the rails. She knew something had to change, but she didn't want to give up her favorite food. After successfully completing my program, she lost more than 20 pounds while still enjoying pizza, cake, and bread. She says she never feels like she is on a diet!
S, New Zealand
She wasn't happy with the person she was becoming post-divorce. In addition to gaining weight, she was stressed, juggling being a newly single parent with an extremely hectic work schedule that required a lot of travel. She learned how to shift her entire relationship with food so she no longer self-sabotaged with poor choices. She lost 11 pounds in all--but gained CONFIDENCE to take up dancing first as a hobby, and now as a COMPETITOR and INSTRUCTOR!
The Academy has a total value of $4,560+
But because I am super excited to welcome you into the Divorce Weight Loss Academy, I am giving you the opportunity to enroll in the Divorce Weight Loss Academy at the special price of just..
Burning Questions You Might Be Having, Before You Grab Your Access...
How Soon Could I See Results?
I Have Tried Other Things To Lose Weight. How Do I Know I Can I Do This?
Will You Be Available To Answer Questions?
Can I Get A Refund If I Decide The Course Is Not For Me?
Enroll in The Divorce Weight Loss Academy today
---
Regular Price (

$3,997)
I see you, because I was like you not long ago.
I remember sitting on the floor of my mom's house crying wondering how my life got to that point.
I was heartbroken, jobless, carless, and the HEAVIEST I had ever been.
I felt HORRIBLE about myself but I just KNEW I could do better... and I KNOW you can, too!
YOU are the reason why I created this course. I had nothing like it when I was going through my divorce.
You are in control of your life. NOW is the time to start a NEW CHAPTER and it is YOUR TIME to step into a brighter future.
YOUR PAST DOES NOT DEFINE YOU!
The Divorce Weight Loss Academy is perfect for you if you are READY to end the cycle of emotional eating caused by the stress of your divorce.
You want to learn how to be FREE of restrictive diets so you can LIVE your life.
You are seeking a program that will streamline the process AND save you time.
Plus, you want to learn from someone who has been where you are--overweight and TIRED of feeling frumpy and uncomfortable in her own skin.
You are READY to put in the work! Let's do this--TOGETHER!
I can't wait to help you lose your "divorce weight" once and for all!
I used to sit in my car and eat cookies during my divorce.
I was told I should "go out, drink, and have fun" as a newly single woman.
But, none of those things sounded "fun" for me.
I only felt more ostracized and misunderstood, which led to even more binge eating episodes.
My weight soared as my divorce dragged on and I felt more shame the heavier I got.
I was out of control and it showed. I did not know how to cope with the stress.
I made this program because it's something I could have used when I was going through my divorce (and even after it was over). It would have saved me a lot of time if I knew how common it is to GAIN weight post divorce.
Most everyone I knew LOST it, which made me feel even worse.
This course has video lessons on topics such as how to identify emotional eating triggers to eating to meet your goals WITHOUT restrictive diets.
I am extremely proud of this program because I designed it FOR YOU--the often overlooked and undervalued divorced woman.
It doesn't matter how long ago you got divorced--if you still have lingering issues as a result, you may also benefit from the material covered in this program.
I hope to see you in the academy!
Amy
CEO, Cougar Bikini Squad